Yesterday, me and my brother played outside with Sophie, James, and Landon.  We went outside at 9:30AM and only came in for lunch at 1:30pm and stayed out till 4:30pm.  We used Sophie's zip line.  We played World Cup.  Jacob beat James.  I beat Sophie and then I beat Jacob.  I stole a shot from him when I was letting him have an extra shot on goal so that he could have a little fun.  And here is what Jacob thinks about it:
Hi, Jacob.  How did you like yesterday when I allowed you to take an extra shot on me?  Was it fun?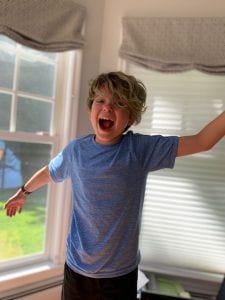 Wazza! Good!  It was fun!
Did you feel fine when I stole the ball before it went in?
Yes.
Wow!  I was not expecting to hear yes.  Wow!  So, Jacob, I have a question for you.  Were you happy that you beat James?
Answer is…YES!
Jacob, for that goal I am going to let you write something in the rest of my posts.
YES!!!
Me and Jacob really enjoyed being outside yesterday.  It was very fun.  I have poison ivy and it had been hurting to bike and sit, but now it is easier and it was very fun.